Technology Overview
Neurona is developing off-the-shelf, allogeneic neuronal, glial, and gene-edited neural cell therapies for single-dose targeted repair of the nervous system. Neurona's discovery platform is powered by regenerative pluripotent stem cell technology and used to develop proprietary manufacturing processes that produce authentic neural cell therapy candidates. The company's wholly-owned pipeline currently comprises cell types of a unique medial ganglionic eminence (MGE) lineage. Neurona's lead product candidate, NRTX-1001, is composed of human MGE-type inhibitory neurons and is being investigated in a Phase I/II clinical trial for chronic focal epilepsy. Neurona is also advancing NRTX-1001 and its other cell therapy candidates for the treatment of additional chronic neurological disorders.
Unique cell therapy lineage
The MGE is a critical structure during brain development that generates a variety of specialized neuronal and glial cell lineages. The MGE is the predominant source of inhibitory neurons that secrete the neurotransmitter gamma-aminobutyric acid (GABA). The MGE also produces myelinating oligodendrocyte glial cells that insulate and support the forebrain. These MGE lineages are essential for the nervous system to function properly. Several neurological disorders are rooted in the imbalanced activity of neural circuits precipitated by improper development, dysfunction, or degeneration of MGE cell lineages, resulting in uncontrolled neural hyperexcitability and local excitotoxicity. Effective treatments for these neurological disorders have been lacking because traditional drugs often have imprecise systemic and diffuse neurological toxicities. In contrast, regenerative neural cell therapies that replace missing or damaged MGE neuronal and glial cell types can provide precise, targeted repair of affected neural circuits.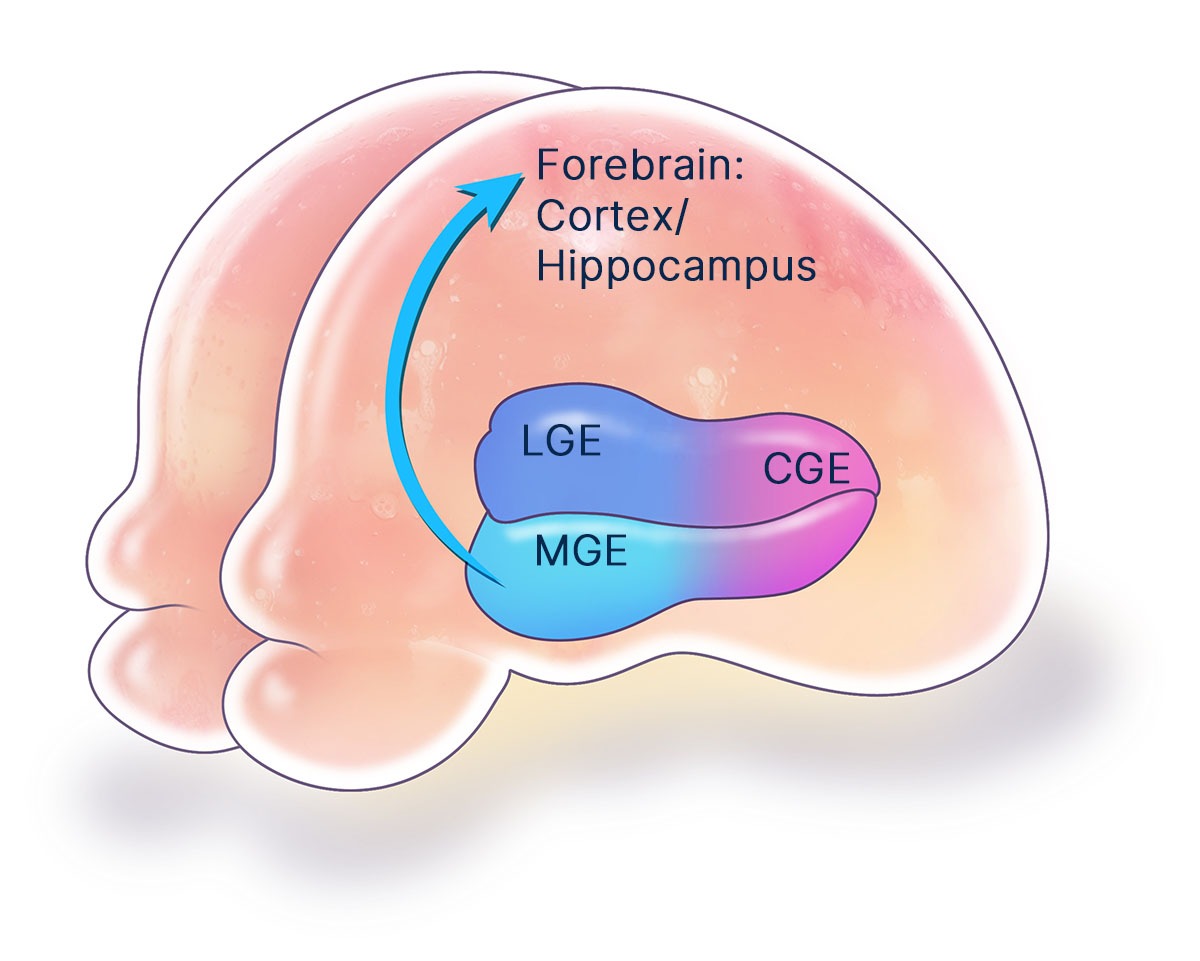 Broad therapeutic potential
MGE cell therapy has broad therapeutic potential. Neurona has industrialized the production of human MGE cells using pluripotent stem cell technologies. From this regenerative human MGE cell platform, the company has developed proprietary methods for manufacturing authentic, fully-differentiated MGE-type neuronal and glial cell therapy candidates for targeted repair of the nervous system. Their unique ability to migrate, integrate, and modulate local neural circuits provides MGE cells with advantageous properties as a cellular therapeutic over most other neural cell lineages. Published proof-of-concept studies have demonstrated MGE cell therapy to be safe and effective in several preclinical models of neurological disorders.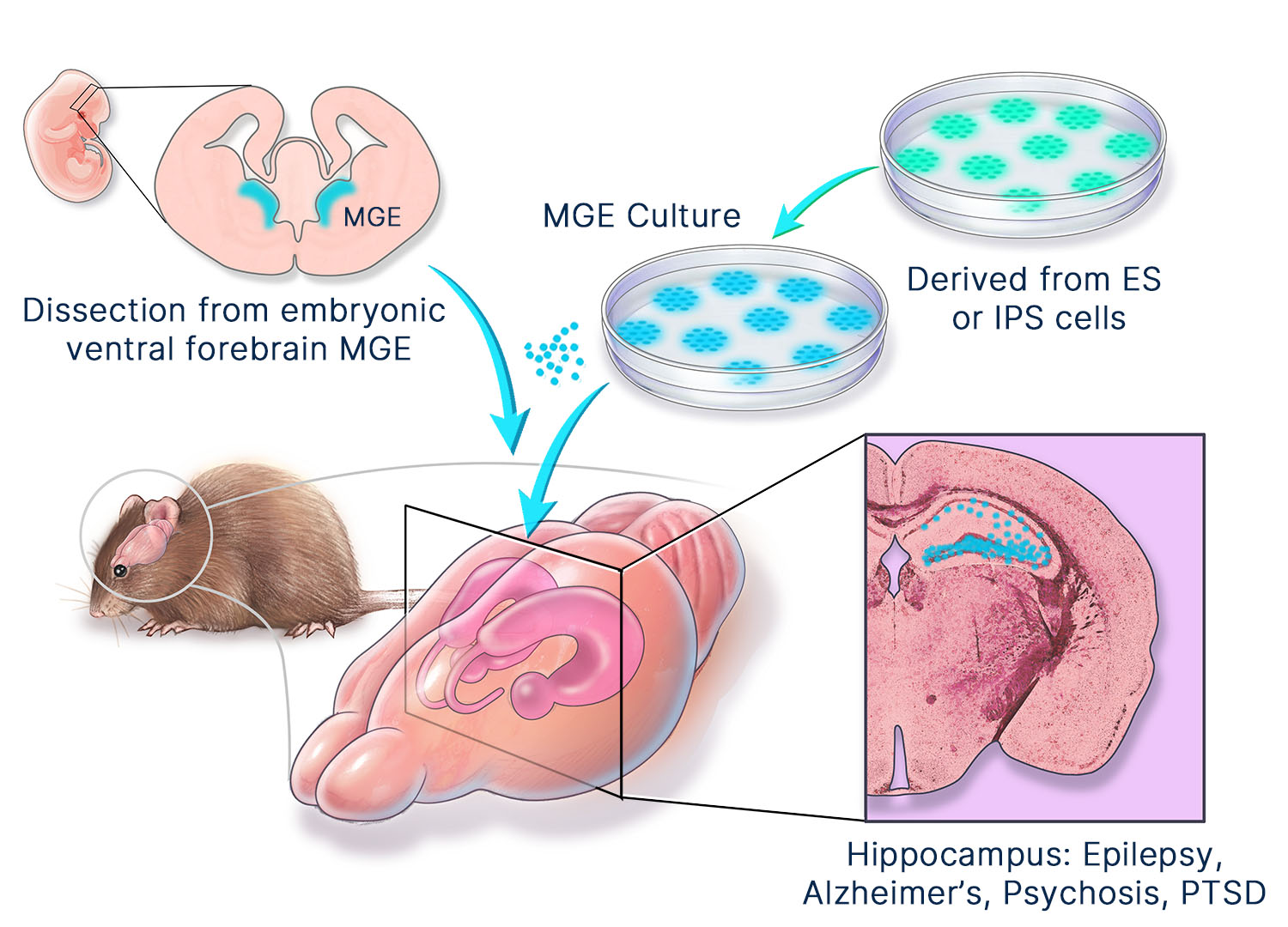 Manufacturing
Neurona's clinical products are manufactured in its state-of-the-art cGMP facility in South San Francisco. Our off-the-shelf, allogeneic product candidates are derived from clinical-grade human pluripotent stem cells. We have developed proprietary methods for manufacturing pure populations of neural cell types in a stage wise manner that recapitulates endogenous development and yields authentic neuronal and glial cells. Although they are generated from stem cells, we have eliminated residual stem cells from our product candidates. In addition, we have set rigorous standards for product composition and fate at the single-cell level. These efforts have yielded cell therapy products with consistent identity, on-target fate, and unparalleled control. We are committed to the production of fully-differentiated, safe cell therapies.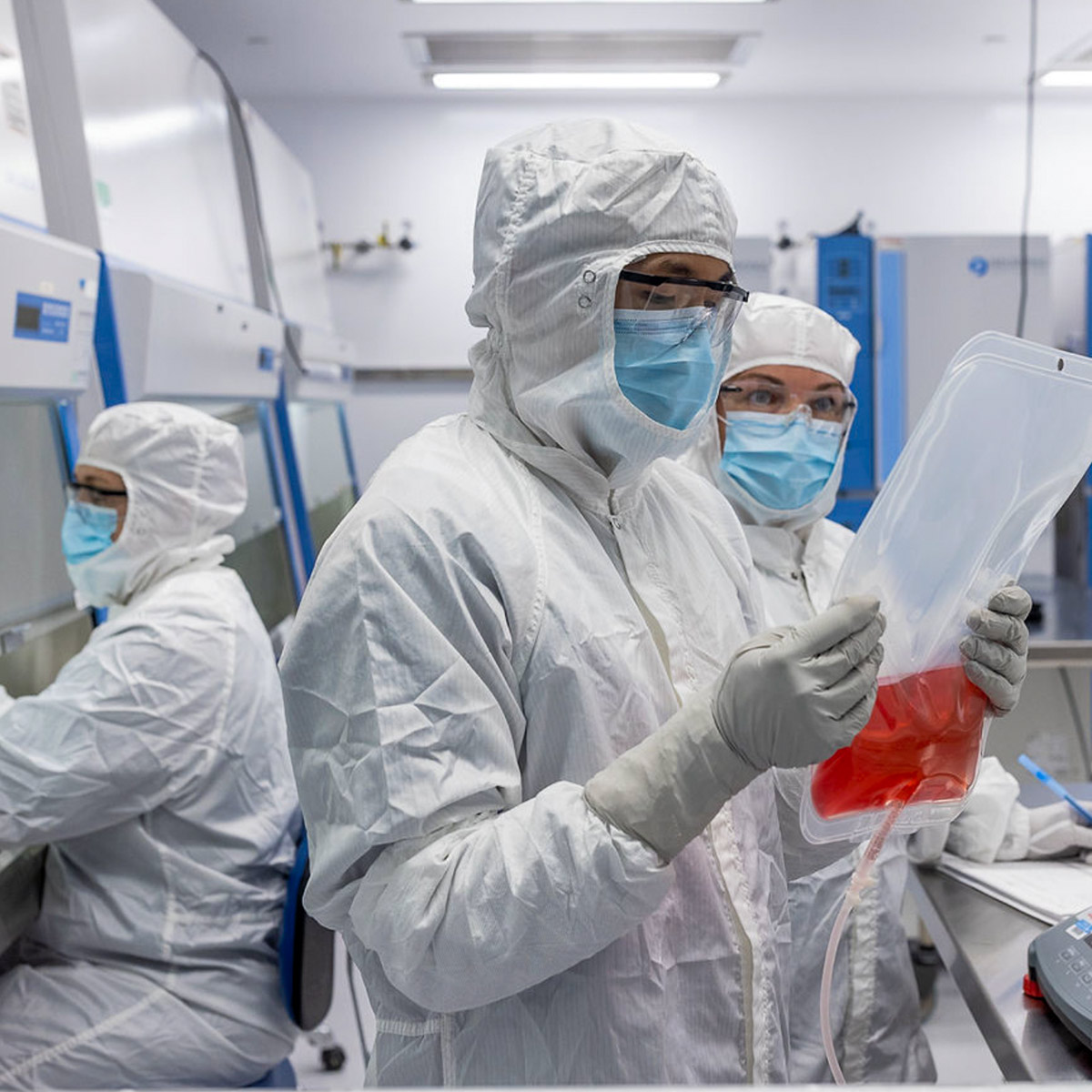 Scientific Publications
Our regenerative cell therapy approach is based on decades of research from the laboratories of our scientific founders, which has been published in high impact peer-reviewed journals.